Jakarta, Komite.id – Silverlake Axis creates technologies to enable the Digital Economy. What sets us apart is the foundation for our computing principles, which are grounded on mathematical models. Through the years, Silverlake Axis has evolved using mathematics to refine, expand and invent technologies, broadening into new industries and markets at the same time. Founded in 1989, Silverlake Axis has built an impeccable track record of successful core banking mplementations. After years of successes across the region, Silverlake Axis was listed on Singapore's Stock Exchange (SGX) SESDAQ in 2003 and moved up to SGX Mainboard in 2011.
In less than two decades after its inception, over 40% of the top 20 largest banks in South-East Asia run Silverlake Axis' core banking solution. Today, Silverlake Axis is the core system platform partner of choice for 3 of the 5 largest ASEAN super regional financial institutions. Silverlake Axis continues to offer innovative Digital Economy Propositions and Enterprise Solutions to its customers in Banking, Insurance, Retail, Payment and Logistics Ecosystems.
A New Chapter
Rapidly venturing beyond our strength in core banking systems, Silverlake Axis has successfully expanded through acquisitions and partnerships, thus reinventing our capabilities to put ourselves in the front and centre of Digital Economy. As a Group, Silverlake Axis' solutions are delivering operational excellence and enabling business transformations at over 300 organisations across Asia, Africa, Australia, Central Europe, Middle East and New Zealand.
The Silverlake Collaborative Architecture is the foundation in which boundaries of computing can be determined by economic rationale of supply and demand rather than by technical limits. It is the driver for transformation both within Silverlake Axis and our customers. Our Silverlake Collaborative Capability and Intelligence Model (SCCIM) enabled solutions are configurable to meet a set of business objectives and act as enablers for transformation and business agility.
In the same spirit, the Group will continue to leverage upon innovations and digital collaborations to solve industry problems through fresh and exciting business solutions.
Case Study: A Best Practice in Mobile Onboarding: Alliance Bank
Business Challenges
As of end-2016, the Malaysian Ministry of Home Affairs reported as many as 1.85 million foreign workers with Temporary Employment passes were working and living in the country. This number was also estimated to only account for 58% of the total migrant workforce present in Malaysia. To Alliance Bank, this market of over three million financially underserved individuals lacked a dedicated suite of services tailored to the profile of immigrant workers. Alliance Bank had to address the financial adoption barriers, unique to the segment, notably language, education, wealth, digital behaviour and Know Your Customer (KYC) regulations.
Solution from Silverlake Group
Through new, readily-available mobile technologies, the Bank's "Alliance Cash2Home" aimed to enhance onboarding, usability, and servicing its target segment's need. After securing regulatory approval to use smart-device-based facial recognition as a means of meeting KYC requirements during account opening, Alliance Cash2Home was able to leverage on facial biometric authentication application to perform mass onsite account opening and onboarding.
Benefits to the Business
In the first 6 months of its operations, Alliance Cash2Home has increased the monthly productivity of onsite services vs. services provided at branches by more than five folds. At 3% staff strength of the branch, Alliance Cash2Home account opening production stands at 17% on a monthly basis. This number is expected to continue to grow over the next one year as the bank continues to focus on mobile as a mainstream onboarding channel.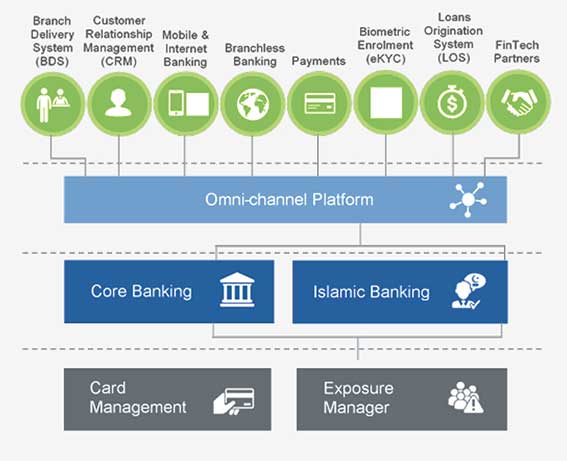 Industry Highlight:Silverlake Symmetri
Silverlake Symmetri is a part of the Silverlake Group of Companies. An astute acquisition made in 2015, Silverlake Symmetri contributed to the Group's reach into Central Europe, the EMEA region and South Asia. With a client base of 50 banks across 25 countries, office representation in 8 countries and a growing portfolio of new digital solutions, Silverlake Symmetri is poised to deepen the Group's foray in
the Digital Economy through innovative digital transformations for the financial institutions sector.
Mission
"Empowering our customers to be Digital Leaders and Customer Centric Institutions in today's Digital Economy."
Product Portfolio
From its initial offering as a financial technology services provider for the retail banking and payment services sector, Silverlake Symmetri continues to expand beyond its borders through a mix of new technologies, strong expertise, and ademand-driven business strategy.
As explained by Silverlake Symmetri's CEO, Jonas Lind, "Our people have only one goal when we step into office each day. And that goal is to create a competitive advantage by offering a unique digital experience that match the need and wants of the end-customer."
Silverlake Symmetri HQ
No. 1B-7-1, Level 7, Block 1B,
Plaza Sentral, Jalan Stesen Sentral 5,
KL Sentral, 50470, Kuala Lumpur, Malaysia
(T) +603 2261 6800
(F) +603 2260 1868
(E) contact_symmetri@silverlakeaxis.com
Business enquiries:
Core Banking & Channels: Rohit Kher ( rohit.kher@silverlakeaxis.com )
Cards: Ramesh Jairam ( ramesh.jairam@silverlakeaxis.com )